Vans Women Hana Beaman Brown Black
Vans Women Hana Beaman Brown Black
Lägg till en bevakning så meddelar vi dig så snart varan är i lager igen.
Vans Women Hana Beaman Brown Black
Vans Women Hana Beaman Brown Black
Vans Women Hana Beaman Brown Black

DESCRIPTION AND FEATURES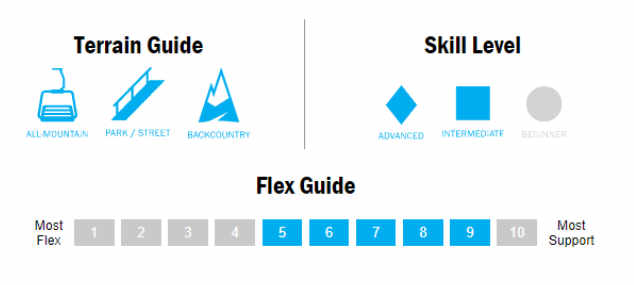 Hana Beaman is an icon of snowboarding. Her more than twenty-year career and journey from contest-focused Southern Californian to globally-traveled and backcountry-experienced veteran reflects not only her ability to evolve with a constantly pivoting snowboard community, but also her passion to push the boundaries of what a professional athlete is capable of after years of industry ups and downs, travel miles, and heavy bails. Those experiences have helped inform Hana's perspectives, and those perspectives have informed this all-new project that celebrates her twenty years with Vans. Digging deep, she's brought a fresh take on what high-level performance looks like in a snowboard boot, and we're very proud to present the Hana Beaman One & Done project.

Add in a waterproof zipper shroud and D-ring, one-way breathable valves, and a V3 UltraCush™ TNF FlashDry™ liner and you get unmatched moisture management. Package all that on top of our V3 POPCUSH™ footbed and the V3 UltimateWaffle™ outsole, and the Hana Beaman is truly in a class of its own.

• TERRAIN: BACKCOUNTRY AND ALL-MOUNTAIN - This boot has been optimised for versatility, from parks and powder to steep, deep, untouched terrain.
• V3 ULTRACUSH™ WITH THE NORTH FACE FLASHDRY LINER - Incorporating the North Face's FlashDry technology, this liner has an UltraCush interior cushioning layer, extended Comfort Flex neoprene forefoot, and updated X-Cage for superior heel hold. It is finished with a dual-density, heat-moldable core and closed-seam microsuede cuff and tongue.
• V3 POPCUSH™ FOOTBED - From the tri-density POPCUSH construction to the OrthoLite open-cell foam top layer, the V3 footbed provides the kind of comfort and performance that only Vans can provide.
• V3 ULTIMATEWAFFLE™ OUTSOLE - The UltimateWaffle represents our most progressive thinking in outsole technology. Loaded with features, it is found only on our top-shelf product and offers the widest range of versatility. From stomping a big landing to side-hilling a hike (and even traction on your sled), you can count on the UltimateWaffle.
• BOA CUSTOM FOCUS PLUS - Custom Focus Plus features two high-power (H4) dials that control three zones of fit linked by Vans' exclusive Custom Slide Guide, delivering concentrated fit around the instep area for superior heel hold.
• V3 HARNESS - This advanced support harness delivers our highest level of support to the ankle and instep, keeping the V3 liner and boot shell locked in and connected.
• WATERPROOF ZIPPER SHROUD + D RING - This feature is a durable and weatherproof fabric shield that protects the lower part of your boot from snow, ice, and moisture. It also features a metal D-ring for securely fastening your pant gaiters to lock out snow.
• VANS FLEX CONTROL SYSTEM - Our removable, high-rebound Hytrel® tongue stiffeners enable riders to custom-tune their boot flex. Keep both in for maximum support, use just one for increased lateral or medial response, or take them both out for a softer-flexing boot. As your boots soften up over time, add the tongue stiffeners back in to extend the life of your boots.
• WATERPROOF, BREATHABLE VALVES - These waterproof valves allow one-way moisture management by transporting moisture away from your foot, ensuring breathability and thermal regulation for dry, comfortable feet.
• POWERCUFF STRAP - Power is the operative word. It provides extra support at the top of the boot for increased stability and response. Its configuration gives riders customisable levels of engagement and the option of wrapping the strap around the internal liner or the exterior tongue.
• INSTEP FLEX ZONE - The Instep Flex Zone functions to maintain natural ankle flexion in your boot, whether in or out of your bindings.
• FLEX RATING - 5-8
• SKILL LEVEL - Intermediate, advanced.
Composition: LEATHER, TEXTILE, SYNTHETIC
Style: VN0A4UVAY49